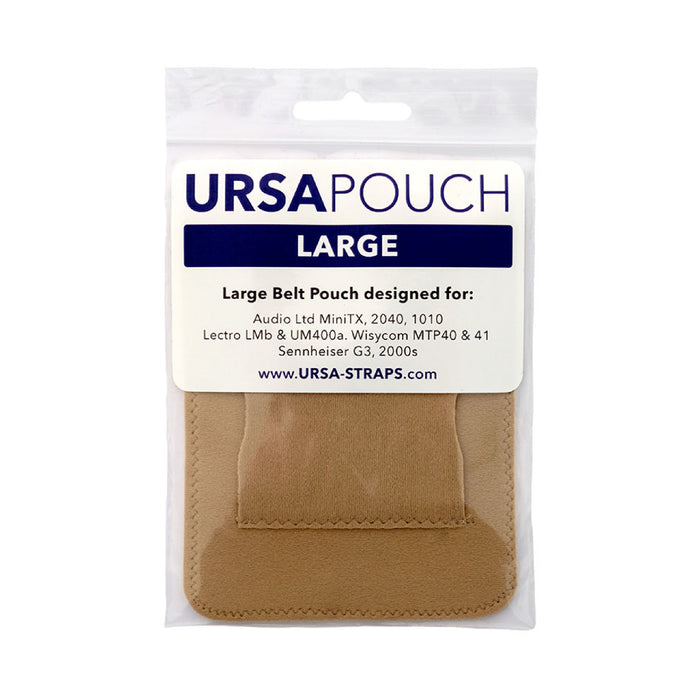 URSA Straps - Pouches
Original price
$23.00
-
Original price
$23.00
URSA Belt Pouches now come with a free removable Clip. These allow you to clip the pouch to any garment and hang it vertically or horizontally.
URSA Pouches are low-profile soft pouches which allow you to rig a transmitter vertically or horizontally to URSA Belts, standard belts or bras. They can also be sewn or pinned into costumes.
They can also be rigged on the inside of helmets, used as IEM pouches or just as soft protection if placing transmitters in the pocket.
Available in Four Sizes & Two Colours Black & Beige.
Mini

86x52mm

Lectrosonics SSM
Zaxcom ZMT3 only


Small

86x55mm

Lectrosonics SMV, PDR

Q5X PlayerMic S


Medium

86x75mm

Lectrosonics SMQV & LT

Sennheiser SK5212

Shure ADX 1M

Wisycom MTP 40 & 41

Zaxcom TRX & ZFR 200 & 300


Large

99x78mm

Audio Ltd A10, 2040

Lectrosonics LMb, UM400a, DCHT

Saramonic UWMIC9 TX9

Sennheiser G3, 2000s

Shure Axient AD1

Sony UWP-D11

(also fits SMQV, Zaxcom & Wisycom)

Delivery Time
Next Day Delivery available for orders placed before 1pm Monday - Friday.
Free Standard 3- 5 Working Day delivery on orders over £250