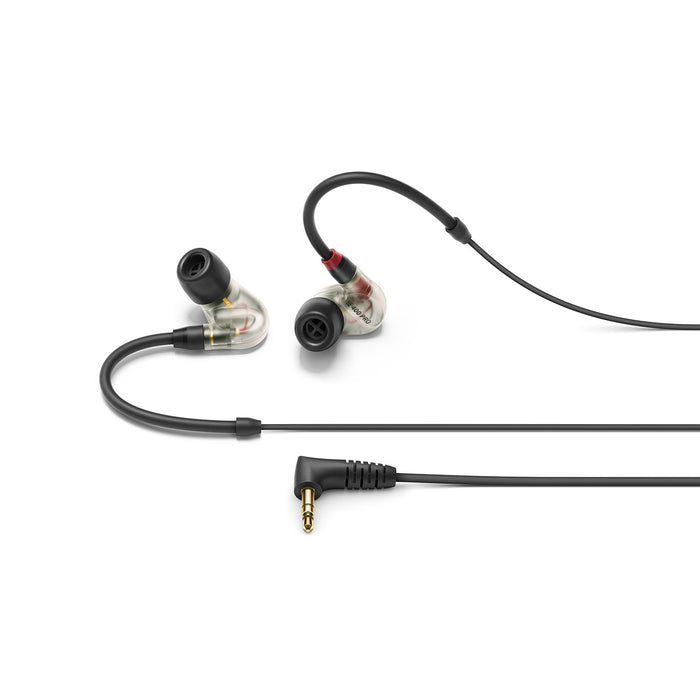 Sennheiser IE 400 PRO Clear
Save

26

%
Save

26

%
Original price
$544.00
-
Original price
$544.00
Step into a world of sonic excellence with the Sennheiser IE 400 PRO Clear in-ear monitors. Crafted with meticulous attention to detail, these professional-grade earphones deliver uncompromising sound quality and exceptional performance for musicians, audio engineers, and audiophiles. 🎧🎵
Featuring a cutting-edge design and powerful transducers, the IE 400 PRO Clear offers a transparent, detailed, and balanced sound signature that captures every nuance of your music with stunning precision. Whether you're performing on stage, mixing in the studio, or simply enjoying your favorite tracks, these earphones provide an immersive and true-to-life audio experience. 🌟✨
The ergonomic and lightweight design of the IE 400 PRO Clear ensures a comfortable and secure fit, allowing you to wear them for extended periods without fatigue. The included silicone and foam ear tips provide excellent noise isolation, minimizing external distractions and allowing you to focus solely on your music. 💪🎶
Key Features:
🎵 Transparent and balanced sound reproduction with exceptional detail
🎵 Powerful transducers for precise and accurate audio performance
🎵 Ergonomic and lightweight design for long-lasting comfort
🎵 Excellent noise isolation for immersive listening experience
🎵 Detachable cable for easy replacement and customization
🎵 Sleek and clear housing design
Built to withstand the rigors of professional use, the IE 400 PRO Clear is crafted with premium materials and exceptional craftsmanship. These earphones are designed to meet the demands of the most discerning musicians and audio professionals, ensuring reliability and longevity.
Whether you're a musician, audio engineer, or passionate audiophile, the Sennheiser IE 400 PRO Clear is your gateway to sonic excellence.
Delivery Time
Next Day Delivery available for orders placed before 1pm Monday - Friday.
Free Standard 3- 5 Working Day delivery on orders over £250